Last night, Friday Night Baseball debuted on AppleTV+. The Nationals and Mets faced off, and there was high drama between Max Scherzer starting against his former club, and some shenanigans about batters hit by pitches. When Apple announced that they were going to be showing Friday Night games during the season, I was a little skeptical. Last night cured that skepticism entirely. Let's talk about why.
Picture Quality Matters
I was absolutely astonished at how great the game looked on my Apple TV. I'm an mlb.tv subscriber, and I'm used to a highly compressed image, with a fair amount of color mutes. You're watching because this is the only way you can watch, not because it's a joy to watch. They must have been shipping 4K video last night with a proper color gamut, because the game just looked crisp and beautiful.
In addition, they were working what felt like twice as many camera angles as I'm used to seeing on a MASN broadcast here in DC. It was a playoff-quality broadcast in terms of direction and angle work, and that's a hard thing to pull off. The shallow shots from near the dugouts gave it a very human feel to go with the long glass shots from the outfield. I was definitely smitten with how great it looked, which takes us to…
Apple Does Chyrons Right
I didn't realize that the word "chyron" wasn't a commonly known word, but it comes from the Chyron company that produces many of the video overlays that we see on our TVs. I have seen a lot of truly terrible chyron work on various RSNs over the last decade, most of which were gimmicky and ugly, trading for gaudiness what they should have invested in information architecture.
Apple did a banger of a job: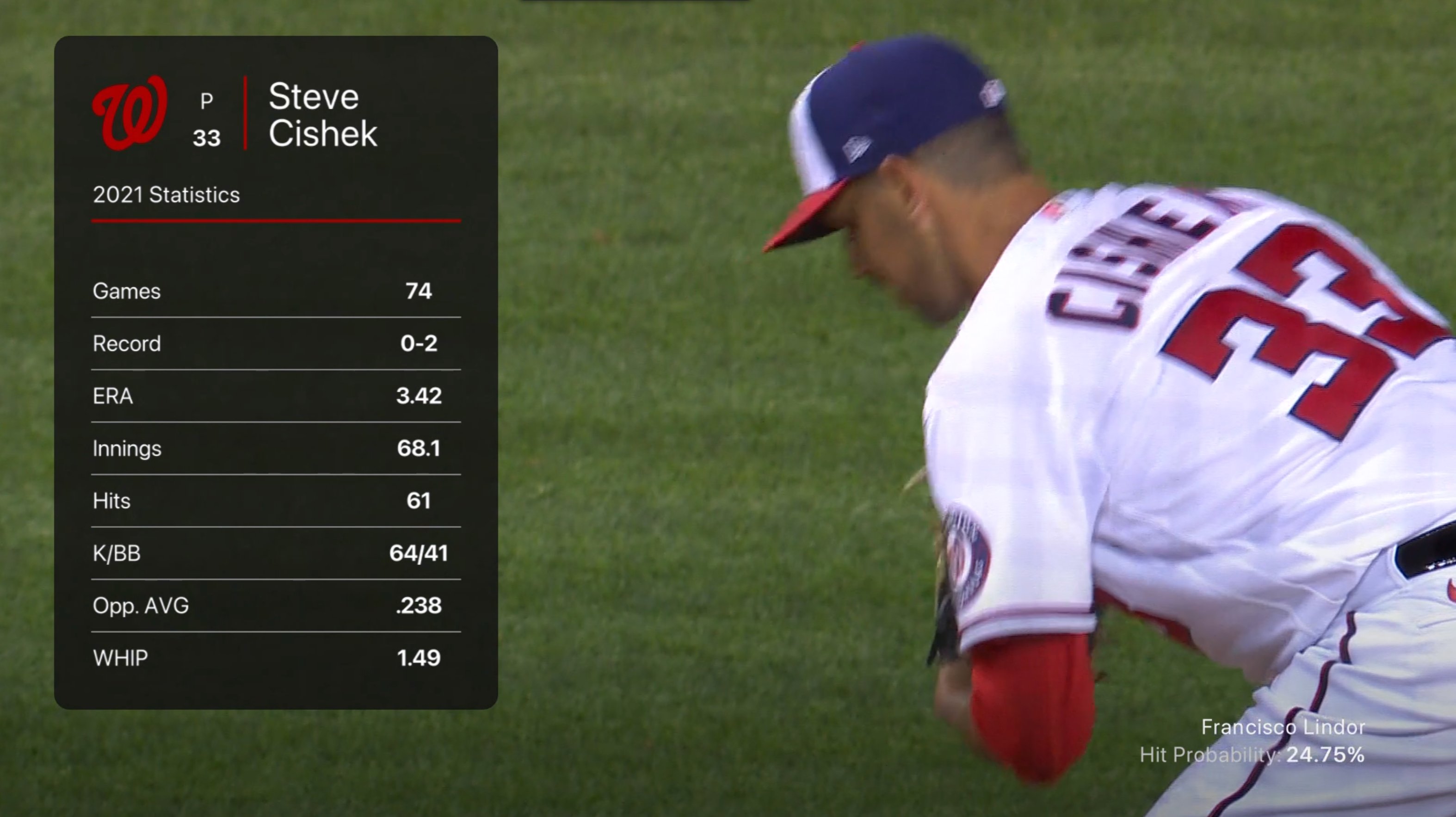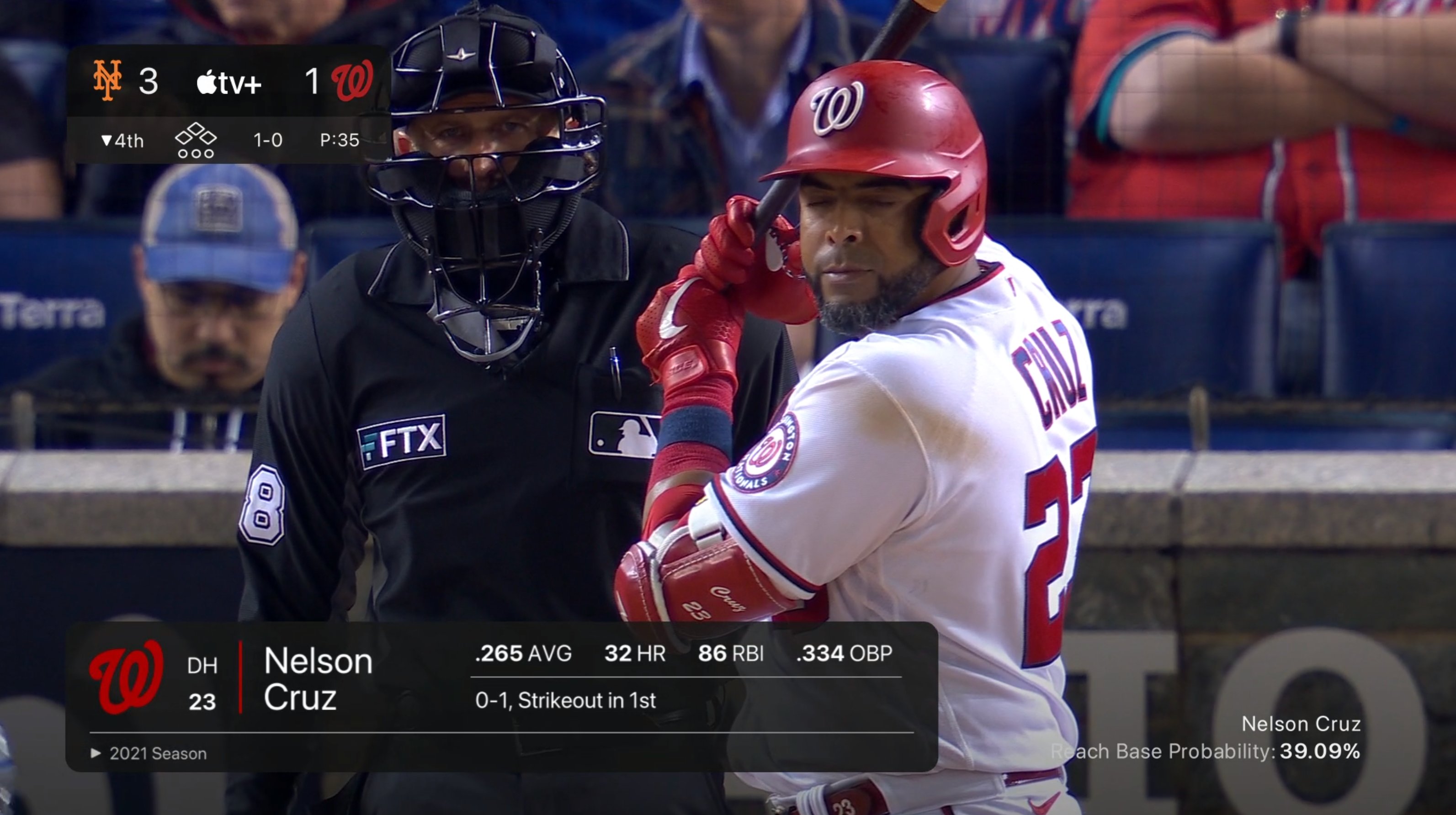 Imagery here was captured by Brandon Costa and included from a tweet. I tried to take some screenshots, but Apple frowns on that in their TV app! Just captures a black frame instead, sadly.
The most controversial for me was the information stat in the lower right corner. Sometimes, it's helpful info (probabilities for reaching base, scoring runs, etc), and sometimes it's a load of useless shit (like gambling odds). I loved that they identified the batters' walk-up tunes with Apple Music icons, that was a lot of fun. They also advertised that they have some Apple Music Playlists like this one for the Nats.
The graphics overall were inviting and inobtrusive, and not once did I get crypto advertised in a dancing add inside the chyron. Wins galore here.
A Younger Announcing Team
Look, I'll be the first to say that I cannot stand Bob Carpenter and his Grandpa Simpson act. There's no question that the average age of a baseball broadcasting team is probably something closer to 60 than my 43. Actually getting some younger broadcasters on the scene is fantastic, and I loved the more youthful feel of the broadcasting crew for the Mets/Nats game.
There's been some pushback from the largely white, largely old, definitely largely dudebro audience on the Twitter machine, and given how hostile fans can be to anything new involved in this sport, it's no surprise some people were upset. I, however, was really appreciative of Melanie Newman's play-by-play, and Chris Young and Hannah Keyser did a fine job on color commentary. They were erring a little bit to the "saying more" part of the job, and I think they overindexed on talking. But, what they did say was fun, and this was a crew that was clearly having a good time, even if Keyser's own mom wasn't onboard:
I want to see what this crew sounds like when they've been working together for months, because I suspect that's going to be a really fine broadcast. Keep it up.
It Wasn't All Roses
I had a few times where the stream locked up, and I couldn't get it started again. These are volume issues, and I'm sympathetic. They'll get it figured out. They need to.
Sometimes the announcers kept going on something unrelated — well, tangentially related — and it turned into a gag that I just didn't find funny. Sure, Juan Soto asked for AppleTVs for his teammates, and sure Apple came through for them, but that didn't need to be a multi-inning gag.
Overall? Pretty Solid
I'm here for what happens next. Count me on the regular watchers' list. I loved how great the game looked, I loved how well-presented the information was, I loved that it was just the right balance of stats and situational data, all without too much pretention. I loved the younger announcing team, and I can't wait to see what they can do!
Tune in, Friday nights, on Apple TV+ on your Mac, iPhone, or Apple TV app. It's worth it.